The Pakistan Football Federation (PFF) on Wednesday issued a statement over FIFA's ban on India.

Published on Aug 18, 2022 08:15 PM IST
The court also asked the Centre to take proactive steps to hold the world cup in India and lift the suspension of AIFF.

Published on Aug 17, 2022 02:20 PM IST
Gokulam Kerala's women's team are banned from participating in the AFC Women's Club Championships due to AIFF's FIFA ban. The team have written a letter to PM Narendra Modi, asking for his help.
Updated on Aug 17, 2022 01:36 PM IST
The unprecedented move means that for the first time in 85 years, all teams from India are barred from playing internationals or friendlies. It also puts in jeopardy the women's under-17 World Cup scheduled to be held in the country in October.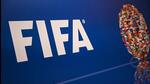 Published on Aug 16, 2022 11:49 PM IST
CoA had said 50 percent of general body can comprise former players; FIFA says only state representatives can vote

Published on Aug 16, 2022 08:23 PM IST