[
air chief marshal rks bhadauria
]
Latest from air chief marshal rks bhadauria
India had signed an inter-governmental deal with France to buy 36 of these fighter jets at a cost of ₹59,000 crore in September 2016.

Published on Jun 19, 2021 04:08 PM IST
India ordered 36 warplanes from France (equivalent of two squadrons) in 2016 for Rs.59,000 crore under a government-to-government deal.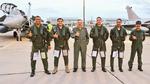 Updated on May 06, 2021 01:20 AM IST
Briefing PM Modi about IAF's preparedness, Bhadauria said the IAF has ordered its entire heavy lift fleet and a substantial number of medium lift fleets to be prepared round the clock.


Updated on Apr 28, 2021 04:20 PM IST
The A330 refuellers of France and UAE air force have been used to ferry as many as 17 Rafale omni-role fighters to India from Merignac-Bordeaux air base since July 2020. Another seven fighters are due to arrive in India in May


Published on Apr 28, 2021 09:05 AM IST
The chief of air staff said his force is also looking at using artificial intelligence in areas of data and intelligence fusion, maintenance as well as in its decision support system.


Published on Apr 05, 2021 08:07 PM IST