Latest from ayodhya ram temple
The Shri Ram Janmabhoomi Teerth Kshetra Trust also finalised its rules and regulations after the meeting presided over by Nripendra Misra, chairman of the Ram temple construction committee.

Updated on Sep 12, 2022 05:20 AM IST
In November-December last year, the state mines department had e-auctioned 41 mining plots in Bansi Paharpur area for the pink sandstones which are preferred for the construction of the Ayodhya temple.

Updated on May 27, 2022 02:41 AM IST
Till date, around 212 pillars have been carved at Shri Ram Janmabhoomi Nyas Karyashala (workshop) in Ayodhya. The VHP has been operating this workshop since the Ram Mandir movement began in the late 1990s. Most of these pillars from the workshop have been shifted to Ram Janmabhoomi.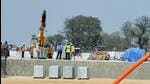 Updated on May 26, 2022 02:39 AM IST
Reports suggested that names of relatives of several BJP leaders and officials of Uttar Pradesh appeared in land deals near the upcoming Ram Temple in Ayodhya.

Updated on Dec 23, 2021 03:36 PM IST
"Almost every household in the country has donated something to Ram Mandir Trust," said Priyanka Gandhi while addressing reporters on Thursday. "A door-to-door campaign was held too. It is a matter of devotion and that is being toyed with.


Published on Dec 23, 2021 01:48 PM IST