Latest from ayushman bharat scheme
The article has been authored by Nachiket Mor, visiting scientist, The Banyan Academy of Leadership in Mental Health.

coverage in the rural sector is higher at 42.4%, and urban areas, 38.1%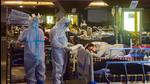 The study has been authored by J Angel Blake and others.

The PM-CARES for Children Scheme was launched by PM Modi on May 29, 2021. It aims to support children who have lost both the parents or legal guardian or adoptive parents or surviving parent to the Covid-19 pandemic during the period starting from March 11, 2020.

The health ministry also highlighted the role played by the AB-HWCs during the coronavirus pandemic, both for the prevention of Covid-19 as well as for enabling other essential health services.