Congress leader Khera shared a video of the pracharak - Yashwant Shinde - and claimed the affidavit reveals 'horrific information about the Sangh's anti-national activities'.

Published on Sep 01, 2022 03:04 PM IST
The incident triggered a row after some members of the Bajrang Dal staged a protest outside the mall and argued with a representative of the mall's management stating that they would recite Hanuman Chalisa at the establishment.

Published on Aug 27, 2022 11:01 PM IST
Written by Kanishka Singharia | Edited by Sohini Goswami
Deepak Saharan, deputy commissioner of police (west), said nearly 100 members of the two outfits assembled at Nehru Park around 5pm on Wednesday and marched towards Sadar Bazar before dispersing at Harish Bakery Chowk.


Published on Jul 02, 2022 05:14 AM IST
Shouting slogans and carrying placards demanding justice for Kanhaiya Lal(47), the dead tailor, protesters said the two arrested men should be sent to the gallows.


Updated on Jun 30, 2022 04:15 AM IST
Tension engulfed Srirangapatna, the former capital of 18th-century ruler Tipu Sultan, where right-wing groups declared their intention to chant Hanuman Chalisa outside the mosque on Saturday. The Hindutva outfits launched a Srirangapatna Chalo campaign, claiming the mosque stands on the ruins of a Hanuman temple.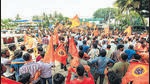 Published on Jun 05, 2022 12:23 AM IST