An inquiry in the collapse has found that the structure of the building became weak due to theft of iron rods that were pulled out from floors and load bearing pillars, said a senior official who is privy to the matter.

Updated on Mar 28, 2022 09:43 AM IST
Although the police are still trying to ascertain the official ownership of the building, senior officers said they will send notices to the agencies concerned for original documentation regarding the construction of the complex, which was built under the Rajiv Ratan Awas Yojna.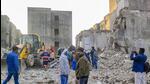 Updated on Feb 13, 2022 04:10 AM IST
All the flats in the buildings are vacant and are in a dilapidated condition. The wooden and iron doors, windows, bathroom fittings and other amenities were stolen long back by anti-social elements, said locals.

Published on Feb 12, 2022 05:21 AM IST