China is aiming to change the status quo in the Taiwan Strait, Joseph Wu said at a briefing in Taipei on Tuesday, saying the military activity adds to concern that Beijing may proceed with an actual invasion.

Updated on Aug 09, 2022 10:07 AM IST
China last week deployed scores of planes and fired live missiles near during military exercises sparked by U.S. House of Representatives Speaker Nancy Pelosi's visit to Taiwan.

Updated on Aug 08, 2022 12:48 PM IST
The PLA's drills, ongoing from Tuesday night, intensified on Thursday noon as Beijing continues to fume over US House Speaker Nancy Pelosi's visit to Taipei earlier this week.

Updated on Aug 04, 2022 07:06 PM IST
While there's no official guideline on Macau's casinos operating capacity during the initial period of resumption, it's likely that they won't open many tables due to a lack of customers as business is dim after recent Covid-19 travel curbs

Updated on Jul 23, 2022 07:42 PM IST
Bloomberg | | Posted by Zarafshan Shiraz
Though Foreign Office spokesperson Asim Iftikhar did not name the Brics member which blocked Pakistan's participation in the high-level dialogue on global development on June 24, media reports in Pakistan cited sources as saying the country was India.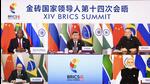 Updated on Jun 28, 2022 01:11 AM IST