Gul is living the dream of many of us – she is traveling to Ladakh on cycle. Here's how her journey has been so far.

Published on Jun 27, 2022 12:00 PM IST
During the Covid pandemic-induced lockdown in early 2020, nearly 25,000 migrant workers reached Saharanpur on bicycles while heading back to their native places in Uttar Pradesh and Bihar from their places of work in Haryana, Punjab, Uttarakhand and Himachal Pradesh.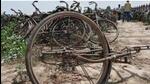 Published on Jun 04, 2022 11:50 PM IST
World Bicycle Day 2022: A simple, affordable, reliable, and environment-friendly means of transport, the benefits of riding bicycles are incalculable.

Updated on Jun 03, 2022 01:10 PM IST
This video that was shared on Instagram by Good News Correspondent, shows how a little kid got helped by his neighbourhood friends as he learned to ride a bicycle.

Published on Apr 26, 2022 05:11 PM IST
Participants of the adventure cycle rally will have to cover a distance of 36 kilometres from Gunji village to Adi Kailash in Pithoragarh and return. The aim is to vitalise villages close to the India-China border via adventure tourism activities

Updated on Apr 21, 2022 08:10 PM IST
PTI | | Posted by Zarafshan Shiraz
, Pithoragarh