Reliance Group chairman Anil Ambani challenged the income tax (I-T) department's prosecution notices issued to him on August 8.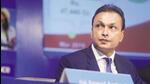 Updated on Sep 26, 2022 05:59 PM IST
'Nothing will be done with any electrifying speed (by the government)', said the court to the petitioners who are residents of the two cities while posting the next hearing for August 23.

Published on Aug 01, 2022 02:31 PM IST
PTI | | Posted by Nisha Anand
The Bombay high court allowed a mother to take her daughter with her to Poland where she has secured a job.

Published on Jul 15, 2022 01:29 PM IST
Written by Manjiri Sachin Chitre | Edited by Chandrashekar Srinivasan
In October 2019, the Bombay high court (HC) quashed a clutch of petition by environmentalists that sought to declare a 33-acre plot in the city's green lung as a legal forest under the Indian Forest Act (1927). This patch was demarcated in 2013 to construct a car shed for the upcoming Metro 3 line.

Updated on Jul 02, 2022 02:26 AM IST
By
Prayag Arora-Desai
, Mumbai
Anil Deshmukh and Nawab Malik moved the Bombay high court on Thursday after their plea for one-day bail was rejected by a special PMLA court in Mumbai during the day.

Updated on Jun 10, 2022 12:09 AM IST
Written by Sharangee Dutta | Edited by Aniruddha Dhar
, New Delhi