India marks its 75th Independence Day next week, and the 'Har Ghar Tiranga' campaign kicked off on Saturday.

Updated on Aug 13, 2022 05:12 PM IST
State Disaster Management Department said they were part of a group of 11 pilgrims, and the incident happened when they entered the lake near Garib Nath temple to take a bath.

Updated on Aug 01, 2022 10:53 PM IST
Sanjay, a street vendor who, last year, received praise from PM Modi, is offering the dish for free to those who have taken the precaution dose of their Covid-19 jab.

Updated on Jul 31, 2022 02:36 PM IST
PTI | | Posted by Yagya Sharma
Country's motto 'Athiti Devo Bhava' tainted, observes fast-track court in Chandigarh while awarding jail term to UP native in December 2018 case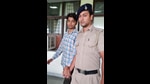 Updated on Jul 26, 2022 08:43 AM IST
According to a PTI report, the address of the house as mentioned in the challan is House number-7, Sector-2, Chandigarh.

Published on Jul 23, 2022 03:50 PM IST