During his visit, Baghel distributed ration to the beneficiaries after weighing it with his own hands. During the inspection of the fair price shop, the chief minister interacted with the beneficiaries and inquired about the ration they received every month.
According to the Chhattisgarh public relations department, the tourism department has identified 75 sites of Ram Van Gaman Path in Chhattisgarh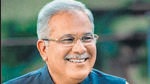 The seven-year-old girl, according to news agency PTI, died on Friday morning.

Chhattisgarh chief minister Bhupesh Baghel stressed that the exodus of Kashmiri Pandits depicted in the movie, 'The Kashmir Files', took place when VP Singh was the prime minister with the support from the Bharatiya Janata Party (BJP) leaders such as Atal Bihari Vajpayee and Lal Krishna Advani.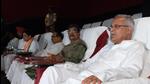 The memorial, as its name suggests, is being built on the lines of Delhi's iconic Amar Jawan Jyoti, which was 'merged 'with the eternal flames at the National War Memorial, on January 21.