[
citizenship amendment act
]
Latest from citizenship amendment act
The MHA recently issued a notification empowering two more Gujarat district collectors to grant citizenship certificates to six minorities of Afghanistan - Hindus, Sikhs, Buddhists, Jains, Parsis and Christians - under Section 16 of the Citizenship Act 1955. It is, however, not linked to CAA, 2019.

Published on Nov 02, 2022 09:29 AM IST
A Supreme Court bench comprising Chief Justice of India Uday Umesh Lalit and Justice S Ravindra Bhat directed that the matter will be categorised into cases that relate to various provisions of CAA and others concerning legal provisions pertaining to the National Register for Citizens (NRC) in Assam and Tripura.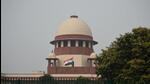 Updated on Sep 13, 2022 04:29 AM IST
Union home minister Amit Shah during a rally in West Bengal's Siliguri said that the Citizenship Amendment Act (CAA) will be implemented once the Covid-19 wave ends.


Published on May 06, 2022 02:48 PM IST
Speaking at a public gathering in West Bengal's Siliguri, Union home minister Amit Shah said that the ruling Trinamool Congress (TMC) government in the eastern state is spreading canards that the CAA will not be implemented.


Updated on May 05, 2022 07:25 PM IST
The direction came after the state government informed the top court that it has withdrawn 274 notices issued for recovery of damages.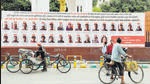 Updated on Feb 19, 2022 01:56 AM IST