Latest from corbett national park
In an affidavit filed on April 9, the state government told the court that the tiger safari will be held at Pakhrau.

Updated on Apr 20, 2023 01:56 AM IST
By
Abraham Thomas
, New Delhi
Dholpur Tiger Reserve (DTR) will be the state's fifth and country's 53rd tiger reserve after approval from the National Tiger Conservation Authority (NTCA)

Updated on Apr 15, 2023 04:57 PM IST
India's tiger population increased by 6.74% from 2,967 in 2018 to 3,167 in 2022, according to Prime Minister Narendra Modi.

Updated on Apr 10, 2023 12:03 AM IST
By
Jayashree Nandi
, New Delhi
Here are today's top news, analysis, and opinion. Know all about the latest news and other news updates from Hindustan Times.


Published on Oct 01, 2022 08:57 PM IST
After the incident, bike riders passing through the area have been asked to be alert on the highway, an official said, adding that patrolling has been intensified in the region.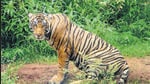 Updated on Jul 18, 2022 04:45 PM IST