Latest from coronavirus india
State government officials are awaiting the initial coronavirus test results for the person.

Updated on Mar 13, 2020 06:19 PM IST
The government has evacuated its nationals from various coronavirus hotspots across the world. Most of them have been quarantined at the Manesar quarantine facility and the one established by Indo-Tibetan Border Police (ITBP) in Chhawla, near Delhi.

Updated on Mar 13, 2020 03:48 PM IST
The number of coronavirus cases has risen to 75. Delhi-NCR region has so far recorded 19 such cases.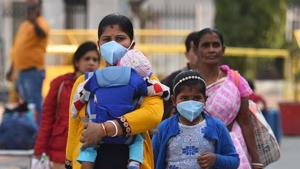 Updated on Mar 13, 2020 02:10 PM IST
India has announced unprecedented steps to check the spread of coronavirus. It has virtually shut the country off to foreign tourists by suspending almost all visas till April 15.

Updated on Mar 12, 2020 05:19 PM IST
The government received 529 samples from Iran and so far, 299 of them have tested negative, Jaishankar told the Lok Sabha in a statement on coronavirus.

Updated on Mar 12, 2020 03:21 PM IST