Latest from defence ministry
In a tweet, the Indian Navy said it was a historical moment for India, this being the first time when an all-women team took up the surveillance mission in the North Arabian Sea.

Published on Aug 04, 2022 06:45 PM IST
By
HT News Desk
| Written by Nisha Anand | Edited by Sohini Goswami
Defence Minister Oleksiy Reznikov tweeted that four more HIMARS rocket launchers from Washington and the first in a batch of German MARS-II systems had arrived in Ukraine.

Published on Aug 01, 2022 09:14 PM IST
Here are today's top news, analysis and opinion. Know all about the latest news and other news updates from Hindustan Times.

Published on Jul 26, 2022 09:04 PM IST
The Defence Ministry has decided to amend the DAP rules to allow private defence companies to collaborate with Indian Defence PSUs with a majority stake and produce required weapon systems.

Published on Jul 17, 2022 08:17 AM IST
The ministry added that this newly introduced audit is a "major shift" from the existing transaction-based compliance audit, which will aim to enhance overall efficiency.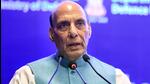 Published on Jul 15, 2022 11:56 PM IST