Mohammad Akram, around 40, informed that the cracks started developing in some six to seven houses around December last year.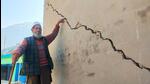 Updated on Feb 05, 2023 04:30 AM IST
FIFA 2022: Following the latest restrictions imposed by the Qatar authorities, Morocco's national airline Royal Air Maroc cancelled their flights to Doha for the football World Cup semi-final

Updated on Dec 14, 2022 04:31 PM IST
Reuters | | Posted by Zarafshan Shiraz
, Rabat
In a capital where so much is new, the museum showcases a variety of the old and historic. Additionally, the museum's narrative is now being heard by more people thanks to the influx of soccer enthusiasts from around the world into Qatar.


Published on Dec 11, 2022 05:33 PM IST
PTI | | Posted by Akanksha Agnihotri
, Doha
"IndiGo flight 6E-1715 flying from Kannur to Doha was diverted to Mumbai as a precaution. The operating crew noticed a technical issue and diverted the aircraft to Mumbai for necessary maintenance," said an IndiGo spokesperson.


Updated on Dec 02, 2022 09:32 PM IST
Venezuela's government has announced direct flights to Algeria and Iran along with Doha, the capital of Qatar


Updated on Jun 17, 2022 09:08 AM IST
Reuters | | Posted by Zarafshan Shiraz