The latest official data showed that China's population stood at around 1,411,750,000 (1.4 billion) at the end of 2022, which is a drop of 850,000 from the end of the previous year.

Updated on Jan 17, 2023 10:47 AM IST
Beijing had set itself a target of 5.5 per cent, a rate already much lower than the performance of 2021, when the country's GDP increased more than eight percent.


Published on Jan 17, 2023 08:52 AM IST
The paper has outlined 16 key factors that will drive the economy towards the goal of surpassing the economic growth of Germany and the UK.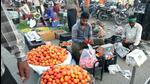 Updated on Jan 02, 2023 04:48 AM IST
The State Bank of Pakistan's (SBP) flagship economic health report released on Wednesday said economic growth was stronger than expected in the 2021-22 fiscal year as the real GDP increased by 6 per cent compared to 5.7 per cent a year ago.

Published on Dec 22, 2022 11:29 AM IST
PTI | | Posted by Singh Rahul Sunilkumar
Falling global commodity prices, assistance from friendly countries and repurposed funds from multilateral lenders have helped Sri Lanka stay afloat and ease paralyzing shortages.

Published on Nov 30, 2022 03:52 PM IST
Bloomberg | | Posted by Yagya Sharma