Latest from excise policy
Delhi's excise department has recently awarded a licence to open a microbrewery in Saket and it is currently considering four more such applications, officials said.


Published on Sep 10, 2022 06:55 AM IST
By
Alok KN Mishra
, New Delhi
The federal anti-money laundering probe agency has taken over the Central Bureau of Investigation's (CBI) first information report (FIR) in the matter, which was filed on August 17 alleging irregularities in the excise policy.


Published on Sep 07, 2022 05:20 AM IST
At a press conference earlier on Monday, Manish Sisodia alleged, "A CBI officer was pressured to frame me in a false case. He could not take the mental pressure and died by suicide."


Updated on Sep 05, 2022 07:38 PM IST
A deputy legal advisor with the CBI, identified as Jitendra Kumar, allegedly committed suicide at his south Delhi residence last week, police said.


Published on Sep 05, 2022 02:52 PM IST
There is still some lack of clarity on one key issue -- the number of dry days which were reduced from 21 to three in November 2021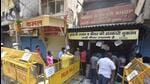 Updated on Sep 02, 2022 11:51 AM IST