5,948 unauthorised structures have been found in Anangpur, while 339 unauthorised structures have been found in Ankhir, 313 in Lakkarpur Khori and 193 in Mewla Maharajpur.

Updated on Jan 25, 2023 02:38 AM IST
Sub-inspector Mahendra Ula tried to swallow the notes of the bribe money he receives while vigilance officials wrestled to get hold of the money by putting fingers inside his mouth.

Published on Dec 14, 2022 12:15 PM IST
Assistant Commissioner Police (Mehrauli) Vinod Narang ruled out any possibility of those being linked to the Shraddha Walkar case. Deputy Commissioner of Police (Faridabad NIT) Narender Kadiyan said the body parts had been kept in the mortuary.

Published on Nov 25, 2022 06:11 AM IST
PTI | | Posted by Yagya Sharma
However, while the police are busy patting themselves on the back, the forest and mining officials have found signs of illegal mining in the district even after the DSP's murder.

Updated on Sep 07, 2022 05:30 AM IST
Officials said at least five fire tenders were pressed into service to control the blaze, and firefighting and rescue operations continued for four hours.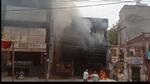 Updated on May 22, 2022 01:23 AM IST