The layoffs - related to the spinoff of its Kyndryl business and a part of AI unit Watson Health - will cause a $300 million charge in the January-March period, IBM said.

Published on Jan 26, 2023 09:02 AM IST
Reuters | | Posted by Ritu Maria Johny
OYO said the move is part of implementing wide ranging changes in its organisational structure. It is downsizing its product & engineering, corporate headquarters, and OYO Vacation Homes teams, while it adds people to the partner relationship management and the business development teams.

Published on Dec 03, 2022 04:07 PM IST
PTI | | Posted by Singh Rahul Sunilkumar
Police have recovered four cellphones, two countrymade pistols, five live cartridges and one of the two motorcycles used in the crime, besides used clothes from their possession, Begusarai SP Yogendra Kumar said.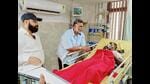 Updated on Sep 16, 2022 10:07 PM IST
Two unidentified bike-borne assailants opened fire at 10 locations in Begusarai on Tuesday evening, resulting in the death of a 25-year-old man and injuring 10 others. Among those injured, as many as four are stated to be critical.


Updated on Sep 14, 2022 05:22 PM IST
Police reached the spot at J-block, Jhuggie area, Seelampur where it was revealed that a function was being organised by Qutubddin to celebrate the birth of his child, a senior police officer said.

Updated on Aug 06, 2022 11:49 PM IST