This video shared on Instagram shows how a tiny little Chihuahua dog smells a variety of flowers in the garden.

Published on Aug 09, 2022 02:49 PM IST
This Instagram video that has been going viral shows how how a cute Beagle dog makes an adorable puppy face after it realises that it has caused a ruckus in its grandma's garden.

Updated on Jul 10, 2022 08:14 PM IST
In a study published in the journal PLOS ONE, University of Florida scientists found that gardening activities lowered stress, anxiety and depression in healthy women who attended twice-weekly gardening classes. None of study participants had gardened before.

Published on Jul 10, 2022 01:00 PM IST
Wish to spruce up your balcony into a green relaxing corner? No matter how concise the space or budget, check out these tips by home interior decor experts on the right trends and products to design a balcony garden for your house

Updated on Jun 11, 2022 08:57 AM IST
The hatke idea and the driver's message has won over many.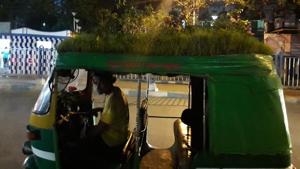 Updated on Apr 03, 2019 06:48 PM IST