Latest from government of india
"This is no doubt a serious issue. Budget for freebies is going above the regular budget. As the Supreme Court said before, this disturbs the level playing field," the bench said.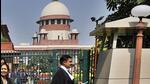 Post the coronavirus outbreak, when direct interaction with the masses posed a challenge, Prakash's contribution in devising new techniques to reach out to the people has been considered significant, a press statement said.

The draft law also considers removing the provision treating social media firms as publishers

By
Deeksha Bhardwaj
, Hindustan Times, New Delhi
Kapil Sibal, appearing in the petition filed by journalists N Ram and Sashi Kumar, said that there was no objection if the government is reconsidering its previous stand on filing a comprehensive affidavit.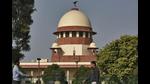 A bench, headed by Chief Justice of India NV Ramana, further observed it is "very upset" by the government and censured the Centre for re-enacting the very same provisions for the administration of tribunals that were struck down by the court in July.