Odisha government plans to upgrade 100 high schools to higher secondary schools from the next academic session to contain dropout rate, a measure of social development.

Published on Aug 03, 2022 07:47 PM IST
This Facebook post shared by Mt. Vernon Township High School, shows how a pig has taken shelter at their premises and has been escaping all attempts at being captured by them and the local animal shelter.

Published on Jul 10, 2022 08:13 PM IST
An eighth school, Friendship Public Charter School, also received a threat, but school was not in session.

Published on Feb 11, 2022 06:14 AM IST
According to a new study, believed to be the first to assess how complete flavour bans affect youth smoking habits, high school students' odds of smoking conventional cigarettes doubled due to ban on flavoured tobacco products or flavoured vaping

Updated on May 30, 2021 12:16 PM IST
According to the official, in addition to the smart classroom, the block authorities have established an open gym and a children park for the overall development of the students.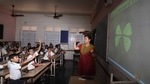 Published on Mar 11, 2021 10:20 AM IST