Latest from housing scheme
Government Housing Schemes turn into financial traps for Below Poverty Line (BPL) citizens in Karnataka.Promised 100% compensation if they build pakka houses, but funds are yet to come.


Updated on May 18, 2022 04:29 PM IST
The definition of what qualifies as a "kaccha" house (having structures constructed of bamboo, clay, grass, flax, pebbles, mulch, crop residues, and the likes) has been changed specifically for a state, the PMO informed, considering the unique geo-climatic condition of Tripura.


Updated on Nov 14, 2021 08:57 AM IST
The ARHC scheme will have a two-pronged approach; first, existing vacant government funded housing complexes will be converted into ARHCs through a concession agreement for 25 years. The scheme aims to cover nearly 3 lakh beneficiaries initially.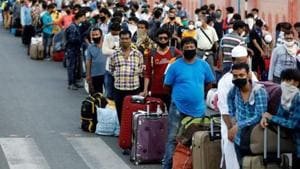 Updated on Jul 08, 2020 03:57 PM IST