Latest from islamic state
NIA's move came on the directions of the Centre after one Sathik Batcha, a resident of Needur in Tamil Nadu, and four of his associates were arrested in February this year, officials familiar with the matter said. Batcha, also known as Saddiq Basha, is a covert sympathiser of the IS ideology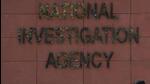 At least 10 worshippers were killed, and 40 others were injured in a powerful explosion at a Shia mosque in the northern Afghanistan city of Mazar-e-Sharif.
By
HT News Desk
| Written by Manjiri Sachin Chitre | Edited by Aniruddha Dhar
The question of identification hung over Elsheikh's trial because the "Beatles" always wore masks around the hostages and would blindfold them or force them to kneel facing a wall.

Ramzan 2022: Chief secretary Somesh Kumar issued a circular stating Muslim employees can end their work hours an hour in advance and the same will be shortened from 5pm to 4pm.

Peshawar blast: On Friday, two terrorists opened fire at police officers near the mosque, after which one of them entered the building and staged the explosion.