On Monday, Paswan died of a cardiac arrest in Darbhanga, roughly a year after the 1,200-km journey made Kumari a household name and the 'cycle girl' became the face of migrant workers' plight,

In a pair of friendly statements, Rubio and Ivanka Trump praised one another for their efforts together working on issues like paid family leave.

Trump reviewed the pardons with his son-in-law Jared Kushner, daughter Ivanka Trump, both senior White House aides, and other officials for most of the day on Sunday, the Washington Post reported citing sources. Announcements are expected on Monday or Tuesday.
Asked not to use the bathrooms inside the couple's sprawling 5,000-square-foot house in the elite Kalorama neighbourhood, several US agents resorted to using a porta-potty as well as bathrooms at the nearby homes of former President Barack Obama, and Vice-President Mike Pence.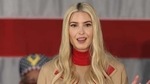 The lenders are following social media outlets and other companies in suspending ties with the president after he encouraged attendees at a rally last week to march on the Capitol, where they stormed the building and interrupted the certification of the electoral college vote.