The debate over Kannada language has erupted on Twitter again after actor Kiccha Sudeep corrected a journalist's pronunciation in an interview.

Published on Aug 05, 2022 12:28 PM IST
By
Yamini C S | Edited by Chandrashekar Srinivasan
Kiccha Sudeep taught a media person how to pronounce Kannada correctly. He also asked the journalist if he has ever pronounced Hindi as Hind.

Published on Aug 04, 2022 09:47 AM IST
A debate is brewing on Twitter on whether or not non-Kannadigas face discrimination in 'global city' Bengaluru.

Published on Jul 19, 2022 11:06 AM IST
By
Yamini C S | Edited by Swati Bhasin
India-born Canadian member of Parliament Chandra Arya said the fact that a person from a village in Karnataka was speaking in Kannada was a matter of pride for 5 crore Kannadigas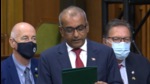 Updated on May 20, 2022 12:10 PM IST
Chandra Arya said it was the first time Kannada was spoken in a parliament outside India. Remembering poet Kuvempu and actor, singer Dr Rajkumar, Chandra Arya ended his speech with the poem Elladaru iru enthadaru iru endendigu nee Kannadavaagiru.

Published on May 20, 2022 10:14 AM IST