Police are now probing the identity and role of people who may have helped Pandit evade arrest all these years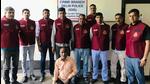 According to the police, Ganjhu was Zonal Commander in the banned terrorist outfit namely Triteeya Sammelan Prastuti Committee (TSPC) having
₹
10 lakh bounty on his head with 26 cases registered against him.

In the days after the encounter in May 2013, the then Raman Singh government ordered a judicial commission headed by retired high court judge, justice VK Agarwal.

Kalahandi SP Dr Vivek M Saravana said the incident may have happened anytime between 12 and 12.30 pm.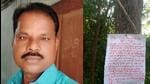 Hyderabad: Six members of the banned Communist Party of India (Maoist) were killed in a gunfight with security forces in Telangana-Chhattisgarh border area on Monday morning, police said