[
narcotics control bureau
]
Latest from narcotics control bureau
The contraband recovered by NCB on Wednesday from Jamia Nagar was stored in a rented accommodation, packed in packets of an e-commerce company's bags to avoid the attention of authorities during transportation.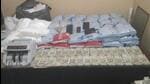 After Sameer Wankhede's term ended, IRS officer Vijendra Singh took the charge of the NCB Mumbai zonal director as an additional charge.

Sanjay Singh, the head of the NCB's special investigation team (SIT), said that the probe into the drugs-on-cruise case is still underway and the team has not arrived at any conclusion yet.

After scouring the ocean for hours this week, the NCB and Indian Navy ship noticed two boats outside India's EEZ, which is 200 nautical miles from the coast.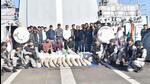 The consignment, hidden in a container carrying vehicle scrap, was smuggled into India from Ontario, Canada and was supposed to be sent to Punjab, initial investigation has revealed