PM Modi held a high-level meeting to assess the risk to Indian citizens in Sudan where violence has killed over 400 people. The PM ordered contingency evacuation plans to be drawn up and for the situation to be monitored closely. There are about 2,800 Indian nationals in Sudan, many of them professionals working in key sectors. The US and Switzerland have also indicated they are preparing for possible evacuation of citizens and embassy staff.

Updated on Apr 21, 2023 11:59 PM IST
Agnipath protests: Navy chief Admiral R Hari Kumar said the Agniveer model is the single biggest human resources management transformation in the Indian military and the protests are happening due to misinformation.


Updated on Jun 17, 2022 10:08 PM IST
The German Navy chief's remarks – especially his contention that the Crimean Peninsule will 'never come back' to Ukraine following its annexation by Russia in 2014 – caused consternation in European security circles.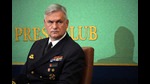 Updated on Jan 24, 2022 04:04 AM IST
Kumar is currently heading the Mumbai-based Western Naval Command. The 59-year-old officer was commissioned into the navy in January 1983.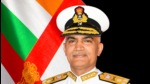 Updated on Nov 10, 2021 01:41 AM IST