Aided by the technology and an inclusive and interacting approach to education, it is revitalising over 200+ govt schools in Karnataka. Impacting nearly 800,000 students and counting, this couple-led NGO has an engaging story.

Background of NGOs involved with prison activities may be verified on periodic basis, the advisory said.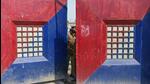 The NGO is started by Bhunesh Sharma, an ed-tech entrepreneur from Jaipur.
Actor Sanjana Sanghi will collaborate with NGO Save The Children to help children and families from disadvantaged communities across remote parts of India, hit by Covid-19 pandemic.

Govt planning to set up new Sainik Schools in partnership with NGOs, private schools