Latest from nsa ajit doval
During the meeting, NSA Ajit Doval and his Dutch counterpart discussed the recent geopolitical events in their respective regions. Both the officials underlined the importance of India and The Netherlands to remain engaged on these issues and intensify their contacts.

His visit appears to miss a crucial point that ties can only move ahead if the standoff ends

The book titled Modi@20: Dreams meet Delivery has been edited by BlueKraft Digital Foundation and is being published by Rupa Publications.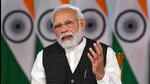 National Security Adviser Ajit Doval said members of the Colombo Security Conclave, a grouping of India, Sri Lanka and the Maldives, remain vulnerable to trafficking, organised crime and maritime terrorism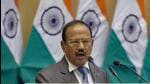 Ajit Doval residence: According to preliminary reports, the man who tried to enter the NSA's residence is from Karnataka and appeared to be of unsound mind.