[
public distribution system
]
Latest from public distribution system
But who is this digitally-driven 'Tau'? "Mein Hun naa!," said Haryana chief minister Manohar Lal Khattar, on his own and with a twinkle in his eyes, while launching 'Tau Se Poochho', a WhatsApp bot and a web-based chatbot solution designed to give quick responses to complex queries of people related to Parivar Pehchan Patra .

Updated on Apr 20, 2023 02:36 AM IST
Last year, a prolonged heatwave in March crimped wheat output by 2.5% to 107 million tonne.

Updated on Apr 07, 2023 03:18 AM IST
The revised rates are however applicable to those state governments and Union territories which have complied with various reforms, such as digitisation of the PDS. A key reform is the transition to the One Nation, One Ration Card portal, available across the country.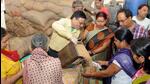 Updated on May 27, 2022 02:26 AM IST
The Delhi government is contesting a petition by the Delhi Sarkari Ration Dealers Sangh, a group of FPS owners, in which they have challenged the doorstep ration delivery scheme and demanded that it should be declared ultra vires (beyond one's legal power or authority)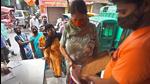 Updated on Nov 23, 2021 02:35 AM IST
The Centre sought stay of the high court order and said that it would have a devastating effect as the Delhi government scheme can disrupt the 'One Nation, One Ration Card Scheme' launched last year.


Published on Nov 15, 2021 10:13 PM IST