The model, co-developed by Bengaluru's Indian Institute of Science (IISc) and the Queensland Brain Institute (QBI) in Australia, simulates the antibody response in a virtual patient population to measure the efficacy of a vaccine.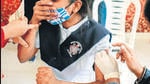 The new lineage was found in a traveller who had arrived from South Africa and tested positive for the coronavirus on Saturday.

Queensland Premier Annastacia Palaszczuk said fully vaccinated travellers would be allowed into the Australian state Queensland without quarantining when 80 per cent of the state's population aged 16 and older was vaccinated. That benchmark is expected to be achieved by December 17.

Australian states that remain virtually Covid-free, including Western Australia and Queensland, face growing pressure to open their borders but because Australia has one of the lowest vaccination rates of any wealthy country, reopening could mean soaring coronavirus cases

AP | | Posted by Zarafshan Shiraz
, Perth, Australia
Paleontologists estimated the dinosaur reached a height of 5-6.5 metres at the hip and 25-30 metres in length, making it as long as a basketball court and as tall as a two storey building.