After the video went viral, the boy along with his mother reached a police station and lodged a complaint. The police have arrested eight accused so far.

They allegedly inhaled toxic gases inside the manhole and It appeared that the deceased were not provided with adequate safety equipment by the agency, say police.

According to the police, there was a function organised in a village by a 40-year-old woman, Sukhrani, on Tuesday night during which people had consumed alcohol. The woman is among the deceased.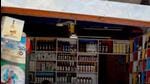 District Magistrate Vaibhav Srivastava said people had consumed liquor after a programme in the village on Tuesday night and their condition deteriorated after that.

Senior Congress leaders publicly exude confidence that the BJP would not be able to replicate their performance in Amethi in Rae Bareli, however, the saffron party's attempts to make capture the seat remains an area of concern for them.