Udaipur Jagannath Yatra: The chariot festival procession will be carried out from 1 pm.

The case was booked against Akhil Bharat Hindu Mahasabha (ABHM) spokesperson Sanjay Jat under section 153A (promoting enmity between groups) of the Indian Penal Code at Nai Ki Mandi police station of Agra, said a senior police officer.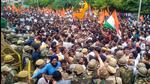 The development was confirmed by the family of the businessman, the local police, and members of a local organisation that filed a First Information Report (FIR) against him.

On Tuesday afternoon, Riyaz Akhtari and Gaus Mohammed walked into Kanhaiya Lal's tailoring shop and murdered him with sharp knives because the man had backed controversial comments by Bharatiya Janata Party member Nupur Sharma on Prophet Mohammed.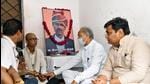 Kanhaiya Lal was murdered allegedly over social media posts supporting ex-Bharatiya Janata Party spokesperson Nupur Sharma in the Prophet Mohammed row.

Written by Kanishka Singharia | Edited by Chandrashekar Srinivasan