Kanhaiya Lal, a Hindu tailor, was brutally attacked by a cleaver by two Muslim men on Tuesday afternoon for allegedly putting out a message in support of the suspended Bharatiya Janata Party (BJP) spokesperson Nupur Sharma who made controversial remarks against Prophet Mohammad.

Written by Harshit Sabarwal | Edited by Poulomi Ghosh
, New Delhi
Pilot was the Rajasthan party chief when the Congress returned to power in the state in 2018, and was keen on the CM's post which went to party veteran Gehlot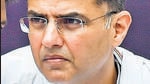 Gehlot's attack comes after the Union Jal Shakti minister said that Pilot missed the opportunity and had the government changed, water would have reached the areas of the state via the Eastern Rajasthan Canal Project (ERCP).

Written by Harshit Sabarwal | Edited by Aryan Prakash
, New Delhi
The Congress leader said in a tweet he was at Narela police station near Singhu border. He was detained earlier today while on his way to the party headqurters.
In a video from inside a police van, Congress leader Sachin Pilot said he was only trying to get inside the party office when he was detained.