The main objective of the CoE is to develop and promote new technology in the field of telecommunications

Updated on Mar 31, 2023 11:41 PM IST
The UP government's Sports Directorate has blamed 'defective operations' for the incident that has caused 'immense slander against the department and the government', following an outrage.

Published on Sep 20, 2022 02:25 PM IST
During the Covid pandemic-induced lockdown in early 2020, nearly 25,000 migrant workers reached Saharanpur on bicycles while heading back to their native places in Uttar Pradesh and Bihar from their places of work in Haryana, Punjab, Uttarakhand and Himachal Pradesh.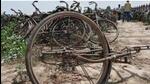 Published on Jun 04, 2022 11:50 PM IST
Uttar Pradesh assembly elections 2022: In 2012, with a population that has 41.95% Muslims, and 21% Dalits, of its seven seats, four were won by the Bahujan Samaj Party, one by the BJP, one by the Congress, and one by the SP. In 2017, aided by a fierce Hindu polarisation, the BJP won four seats, including Deoband, with two going to the Congress, and one to the SP.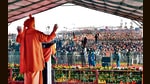 Updated on Jan 30, 2022 11:47 PM IST
The ceremony is scheduled to take place at 1pm. This comes just months ahead of the Uttar Pradesh assembly elections in 2022. Chief minister Yogi Adityanath has called it a path towards the state's beautiful future.

Published on Dec 02, 2021 12:13 PM IST