Latest from terror attack
The deceased, assistant sub-inspector Vinod Kumar, was hit by bullets as terrorists opened fire at a check post at Gangoo crossing in Pulwama from a nearby apple orchard. He succumbed to his injuries in a nearby hospital.

Published on Jul 18, 2022 01:39 AM IST
A J&K police spokesperson identified the injured personnel as selection grade constable (SgCt) Firdous Ahmad and said the attack took place at his residence in Hugam Srigufwara area of Anantnag.

Published on Jul 04, 2022 02:52 AM IST
Moideen, 37, convicted by an Ernakulam court in September 2020 for joining ISIS told investigators that he met Paris bombers including Abdelhamid Abaaoud (killed during the bombing) and Salah Abdeslam on his way to Iraq.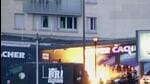 Updated on Jul 01, 2022 05:37 AM IST
By
Neeraj Chauhan
, New Delhi
Suspected ISIS terrorists stormed the shrine around 7:15am local time (8:30am IST) on Saturday.

Published on Jun 18, 2022 01:10 PM IST
The terrorist attack on Rajni Bala is the 'most reprehensible act,' said lieutenant governor Manoj Sinha.

Published on May 31, 2022 02:38 PM IST