The Congress has been traditionally winning most of the tribal dominated seats in Gujarat, even though it has been out of power for the past 27 years.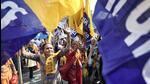 Updated on Dec 04, 2022 05:23 AM IST
In a video shared on Twitter by the TMC, the leader of opposition in the Bengal assembly, Suvendu Adhikari, can be purportedly heard saying that TMC legislator Debnath Hansda and minister Birbaha Hansda are "kids" who "remain under his shoes".


Published on Nov 16, 2022 01:20 PM IST
The folk artists performed the fusion dance form "Lambadi dance" at the National Tribal Festival, which took place in Raipur from November 1–3, drawing on Telangana and and Rajasthani cultural influences.


Published on Nov 04, 2022 05:14 PM IST
The 3 day National Tribal Dance Festival at Raipur, from November 1 to 3, will see the participation of dance groups from Mozambique, Mongolia, Tongo, Russia, Indonesia, Maldives, Serbia, New Zealand and Egypt.


Updated on Oct 22, 2022 07:44 PM IST
The five men, in the age group of 20 to 25 and belonging to a Particularly Vulnerable Tribal Group (PVTG), lodged a police complaint against eight people, including the 'Mukhiya' of Beta Panchayat.


Published on Oct 10, 2022 07:13 PM IST