Police said according to preliminary probe, it seems that the three women suffocated to death as four small coal and wood-burning stoves were found lit inside the bedroom. Also, the knob of a cooking gas cylinder was also found partially open

Updated on May 23, 2022 03:57 AM IST
The Delhi government's horticulture department, through advocate Shadan Farasat, also said that trees in other parts of the city are being washed and watered routinely, adding that a tree census has been conducted in Vasant Vihar.

Updated on Dec 24, 2021 03:29 AM IST
HT reported in December last year that of the total 4,993 trees on the streets of Vasant Vihar, 3,859 were heavily concretised. A tree census conducted by local residents showed over 450 trees had nails, tree guards, barbed wires etc. in or around them, 764 trees were lopped off and at least 793 trees were infested with termites

Updated on Nov 25, 2021 04:04 AM IST
The court was hearing a plea by a resident who alleged inaction on the part of the authorities to preserve trees. The plea also cited non-compliance of earlier orders passed by the high court as well as the National Green Tribunal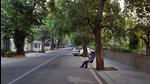 Updated on Nov 20, 2021 01:04 AM IST
Justice Rekha Palli said the lives of people in the city cannot be "endangered" just because removing protesters will have international consequences.

Updated on Sep 02, 2021 05:16 AM IST