Latest from vehicle registration
From April 1, it will cost
₹
5,000 to renew the registration of all 15-year-old cars, compared with the current rate of
₹
600.

The certificate shall be displayed in yellow colour on blue background in type Arial Bold Script.
Written by Kanishka Singharia | Edited by Chandrashekar Srinivasan
, New Delhi
The ministry also said that it will be available on a voluntary basis to defence personnel, central and state government employees, employees of state and Central government-run PSUs and private sector companies and organisations which have their offices in 4 or more states.

Written by Shankhyaneel Sarkar | Edited by Poulomi Ghosh
, Hindustan Times, New Delhi
The BH-series is the latest reform introduced by the central ministry. Last year, it had mandated all vehicles sold in India before April 2019 to have high security registration plates (HSRP).

People aware of the development told Hindustan that according to the new system, the information regarding the vehicle owner will be uploaded to servers linked to Motor Vehicles database. This way, it will be very hard for people to continue using their vehicles without a PUC certificate.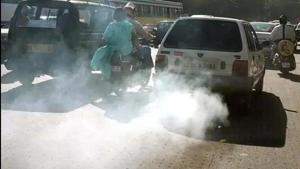 Hindustan Times, New Delhi |
By
hindustantimes.com | Edited by: Amit Chaturvedi