Latest from vishwa hindu parishad
Deepak Saharan, deputy commissioner of police (west), said nearly 100 members of the two outfits assembled at Nehru Park around 5pm on Wednesday and marched towards Sadar Bazar before dispersing at Harish Bakery Chowk.

Published on Jul 02, 2022 05:14 AM IST
Shouting slogans and carrying placards demanding justice for Kanhaiya Lal(47), the dead tailor, protesters said the two arrested men should be sent to the gallows.

Updated on Jun 30, 2022 04:15 AM IST
The order under Section 144 of CrPC prohibiting five or more people near the mosque came after the VHP claimed that a temple-like design was discovered during the renovation work of the Asayyid Abdullahil Madani Dargah on April 21.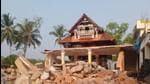 Updated on May 26, 2022 03:53 AM IST
The saffron outfit also demanded that the Nizamuddin Markaz building in Delhi and the bank accounts associated with it should be sealed, and its "economic sources and resources" should be found out and plugged.

Published on Dec 16, 2021 06:47 PM IST
Bharatiya Janata Party president Jagat Prakash Nadda said Anand Shankar Pandya's contribution is inspiring. "My deepest sympathies to their families. Om Shanti," he said on Twitter.

Published on Nov 11, 2021 01:18 PM IST