'Grace and enchanting beauty': IAS officer shares beautiful video of peacock
Nov 27, 2022 02:14 PM IST
The video was the peacock roaming around was posted on Twitter by IAS officer Supriya Sahu.
The videos capturing the beautiful bird peacock never fail to amaze people. Probably that is the reason this video shared by IAS officer Supriya Sahu is creating a buzz among netizens. The video shows a peacock roaming around.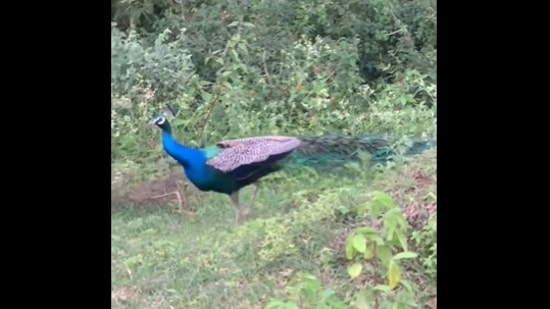 "The grace, the enchanting beauty and the unmatched elegance of India's National Bird," she wrote while sharing the video. Alongside, she also posted a few hashtags. They're #peacock and #nationalbird.
The video opens to show a peacock hiding behind a mound. At first, the bird stays hidden and is partially visible. Eventually, it comes out and starts roaming around.
Take a look at the video:
The video was shared a day ago. Since being posted, the clip has received close to 5,200 views. The share has further accumulated more than 450 likes. People shared different comments while reacting to the video.
"Beautiful video, ma'am," wrote a Twitter user. "Majestic," shared another. "Well captured," praised a third. "Wow," expressed a fourth. Some showed their reactions through heart or thumbs up emoticons.