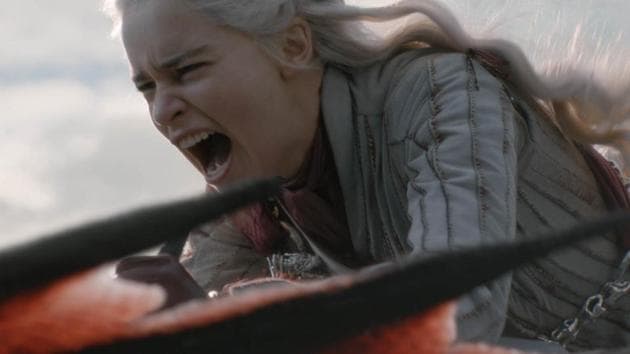 Game of Thrones' woes continue, The Last of the Starks is the second-lowest rated episode of the series
The Last of the Starks has beaten The Long Night's one week long record. It has become Game of Thrones' second lowest rated episode ever, adding to the list of problems facing the hit HBO show in its final season.
UPDATED ON MAY 07, 2019 06:08 PM IST
The bar keeps dropping in Game of Thrones' final season, with the latest episode - The Last of the Starks - scoring the second lowest rating in the series' eight-year run. The episode has a 61% score on review aggregator Rotten Tomatoes, eclipsing the record of the previous week's The Long Night. The show's lowest rated episode is season five's Unbowed, Unbent, Unbroken, which was controversial for showing a rape scene.
"The Last of the Starks strains to set the board for Game of Thrones' conclusion, but serves up enough political intrigue and touching character interactions to satisfy," the critics' consensus reads. Several reviewers described the episode as 'anticlimactic' and 'bizarre'.
"Not every character- or plot-based story decision feels earned, but at least the rapid momentum toward the series' end has kept the eyes of Game of Thrones somewhat on the present, however volatile and fatal it may be," IndieWire's Steve Green wrote.
"I'm afraid Jon Snow — sorry, Aegon Targaryen — is going to somehow stumble his way onto the Iron Throne. Yes, I do mean accidentally bumbling his way onto it, like he bumbles absolutely everything else, and everyone will just yell, 'King in the south!' If that happens, I'm going to riot," Tasha Robinson of The Verge wrote.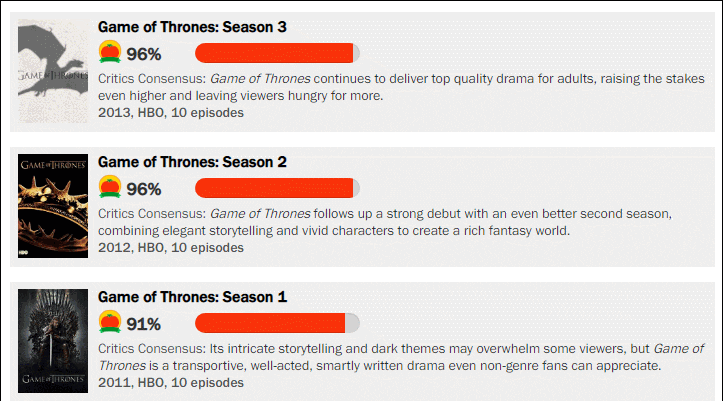 The episode broke the one-week reign of The Long Night as the series' second-lowest rated chapter. It told the story of the Starks' growing unease with Daenerys Targaryen, as the allied forces regrouped after the epic Battle of Winterfell, which saw their army taking extensive damage, but ended with a major victory over the Night King's undead horde.
Overall, the final season is also the lowest rated in the show's run, with a score of 79% on RT. By comparison, the first season had a 91% score, seasons two and three retain a 96%, season four is the best rated with a 97% score, while seasons five, six and seven have 93%, 94% and 93% score, respectively.
Also read: Game of Thrones fans spot Starbucks cup in episode 4, 'Was it too dark to notice?' asks Twitter
With just two more episodes to go, all eyes are on how creators David Benioff and DB Weiss will conclude one of the most successful television shows in the history of the medium. Despite the mixed response, Game of Thrones continues to outdo itself, ratings wise. The Long Night set a new series record.
You can read our reviews of the first four episodes here, here, here and here.
Follow @htshowbiz for more

Close