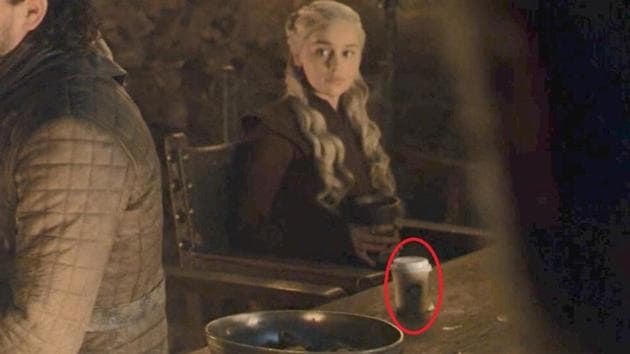 Game of Thrones fans spot Starbucks cup in episode 4, 'Was it too dark to notice?' asks Twitter
There's a Starbucks cup in Winterfell, and Game of Thrones fans can't believe how no one noticed. See reactions.
UPDATED ON MAY 10, 2020 12:15 AM IST
In an unexpected gaffe, the latest episode of Game of Thrones has a stray coffee cup lying on a table, which apparently went unnoticed by the cast and crew, until fans pointed it out on Twitter. Sharing videos, memes and jokes about the modern takeaway container, fans took to social media immediately after the airing.
The container can be seen laying in front of Emilia Clarke, during the party scene in which the characters celebrate their victory over the Night King and his army of the undead. It sticks out like a sore thumb amid the flagons of ale and ornate chalices that are held in characters' hands.
Several fans joked about the previous episode's controversially dark lighting, suggesting that HBO had missed the container because of the cinematography. "GoT cinematographer: I know there are exactly the right amount of Starbucks cups in the shot because I shot it," one fan wrote sarcastically. "If you can't SEE the action, you won't notice the Starbucks cup," wrote another.
WATCH: Game of Thrones Season 8 premiere: Stars reveal their favorite death scene
Others wondered what Daenerys Targaryen's favourite flavour of coffee would be, while another contingent debated as to whether it is a Starbucks cup at all. "The fact that there was a Starbucks cup in tonight's Game of Thrones that no producers or editors noticed throughout multiple cuts merely 1 week after the DP yelled that the show's not too dark to see is truly *chef's kiss*," one fan wrote.
Also read: Game of Thrones season 8 episode 4 review The Last of Starks: Neither Brienne-Jaime nor an orgy can save this one
You can check out more reactions to the cup here:
The latest episode of HBO's hit fantasy series has received mixed critical reviews. With just two more episodes remaining in the final season, all eyes are now on Daenerys Targaryen and Jon Snow's interpersonal relationship, and the strength of their allegiance against Cersei Lannister.
Follow @htshowbiz for more
Close