AIB's Tanmay Bhat 'steps away', Gursimran Khamba on leave as India's #MeToo gains momentum
Comedy group AIB has said Tanmay Bhat will 'step away' while Gursimran Khamba has been placed on a leave of absence as India's #MeToo movement gains momentum.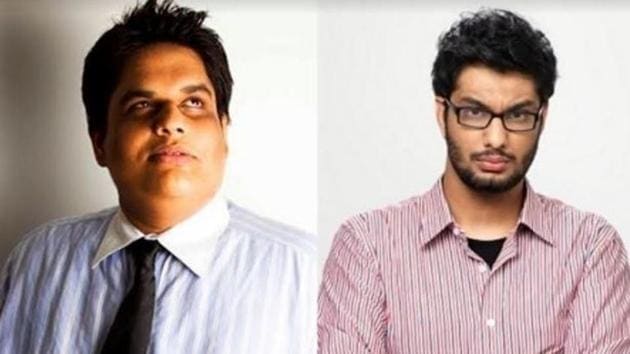 Updated on Oct 08, 2018 05:02 PM IST
Comedy group AIB has announced that Tanmay Bhat will "step away" from his role in the group as India's #MeToo movement gains momentum. Last week, the group had accepted that Tanmay knew about comedian Utsav Chakraborty's misbehaviour with women and still kept working on projects with him. Another member of AIB, Gursimran Khamba, has been "put on temporary leave" after allegations of sexual harassment emerged against him on social media.
"We have been closely monitoring the sequence of events on social media around the allegations against AIB and also our Co-founder and CEO, Tanmay Bhat. We cannot overlook Tanmay's role and in light of this, he will be stepping away from his association with AIB until further notice. This implies that Tanmay will not be involved with the day to day functioning of AIB or in any other manner," AIB said in a statement.
The statement also said that Gursimran has been placed on a temporary leave. "We have also just been appraised of the allegations against Gursimran Khamba on social media. At this point in time, these allegations pertain to a private matter, and he has released a statement of his own about the same. However, as an organization, we believe that it would be prudent to place Gursimran Khamba on a temporary leave of absence until we have more clarity on the matter," the statement said.
Khamba has been accused by a woman of misconduct on social media. The comedian has categorically denied "any violation of consent". The woman, who requested anonymity, posted her statement through the Twitter handle of a journalist.
Adding that the group will continue working with the other founders -- Ashish Shakya and Rohan Joshi, the statement added, "We do not know what this means for the future of AIB or whether there is one."
On Thursday, Utsav was accused of sending sexually explicit messages to women, including minor girls, in a Twitter thread by a writer-comedian. She shared several accounts of women who claimed to have received unsolicited explicit photographs from Utsav. He has since apologized for his behaviour.
Tanmay later accepted that he was aware of the allegations but didn't do enough. "I should've ended ties then, and I didn't, and it is my fault. I'm truly sorry. I should've acted stronger," Bhat had said.
Close Story
Personalise your news feed. Follow trending topics