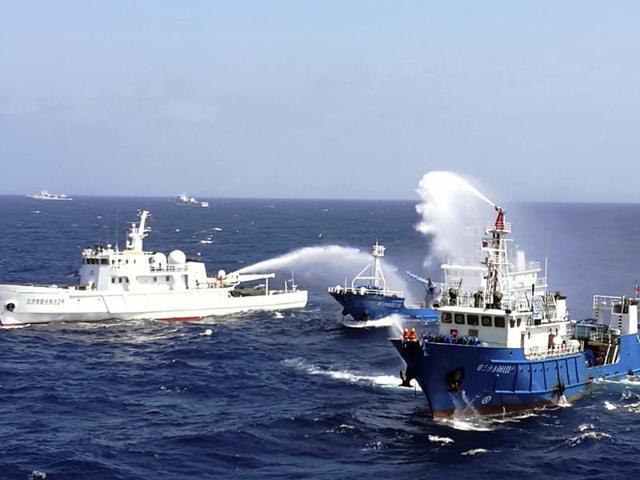 After India, Vietnam says Beijing making 'untruthful' claims on South China Sea
Vietnam has accused China of spreading lies about how much support it has on the South China Sea arbitration case days after New Delhi dismissed a similar "misinformation" campaign by Beijing.
Hindustan Times | By Sutirtho Patranobis
, Beijing
UPDATED ON JUL 19, 2016 09:47 PM IST
Vietnam has accused China of being "untruthful" about how much support it has on the South China Sea arbitration case days after New Delhi dismissed a similar "misinformation" campaign by Beijing.
Late on Monday, Vietnam described as "untruthful" Chinese state media reports that said Prime Minister Nguyen Xuan Phuc told Premier L Keqiang he "respects" China's position on the South China Sea arbitration case during a meeting in Ulan Bator two days after an international court dismissed Beijing's maritime claims in the region.
Phuc and Li met on the sidelines of the Asia-Europe Meeting (ASEM) summit in the Mongolian capital on July 14.
China had dismissed The Hague-based Permanent Court of Arbitration's ruling as "illegal" and "a piece of waste paper".
Following their meeting, Chinese state media, led by official news agency Xinhua and the Communist Party of China mouthpiece, People's Daily, apparently quoted Phuc and reported: "Vietnam respects China's stance on the SCS arbitration case, which was unilaterally initiated by the Philippines, and maintains that such disputes should be solved peacefully through negotiations."
Phuc was further quoted as saying, "Vietnam stands ready to push forward bilateral maritime negotiations and properly manage differences with China, in order to contribute to regional peace and stability."
A report published in Vietnam's national daily, Vietnam News, said the version of events published in China was not true.
Vietnam refuted the "untruthful coverage by Chinese media regarding the East Sea (the name Vietnam uses for the South China Sea) issue from the meeting" between Phuc and Li.
The Vietnamese newspaper added: "In fact, PM Phúc asked both sides to seriously implement agreements by senior leaders, including the agreement on the basic principles guiding the settlement of issues at sea between Vietnam and China signed by Party Secretary General Nguyen Phú Trọng and his Chinese counterpart, Hu Jintao, in October 2011."
Phuc told Li the 2011 agreement was meant to "promote mechanisms of negotiating sea-related issues, manage differences at sea, avoid further complicating the situation, and fully and effectively realise the Declaration on the Conduct of Parties in the East Sea, as well as to reach a Code a Conduct in the East Sea soon, contributing to maintaining peace and stability in the region".
Last week, New Delhi had dismissed a map printed in a state-run Chinese newspaper that showed India among countries supporting China.
Sources in New Delhi told HT the Chinese daily's report was part of a "misinformation campaign by China". An official statement issued by India after the tribunal's ruling didn't convey explicit support for China on the disputed region, especially after Beijing belligerently dismissed the verdict as "null and void".
Close