What Baloch dissidents have to say about Modi's comments on Pak 'atrocities'
Hindustan Times |
Rezaul Hasan Laskar
Aug 15, 2016 03:16 PM IST
Prime Minister Narendra Modi's remarks on Pakistan being made to answer for atrocities in Balochistan have been welcomed by a section of dissident Baloch leaders, including Europe-based Brahumdagh Khan Bugti.

Prime Minister Narendra Modi's remarks on Pakistan being made to answer for atrocities in Balochistan have been welcomed by a section of dissident Baloch leaders, including Europe-based Brahumdagh Khan Bugti.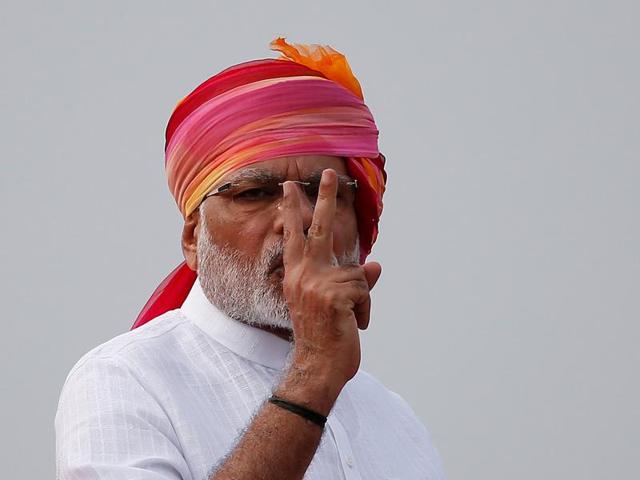 Bugti, the grandson of legendary Baloch leader Akbar Bugti, who was killed in a 2006 military operation, said Modi's comments were "very encouraging".
"Pakistan demands self-determination and self-rule of Kashmiris and at the same time, they are crushing the same demands of Baloch people by force. This not only exposes the double standards of Pakistan but also their evil designs to disrupt the peace and stability in the region," Bugti said in a video statement posted on Facebook.
Speaking at a meeting of all political parties in New Delhi on Friday, Modi said: "Pakistan forgets that it bombs its own citizens using fighter planes. The time has come when Pakistan shall have to answer to the world for the atrocities committed by it against people in Baluchistan and Pakistan-occupied Kashmir."
Modi's comments were widely seen as a riposte to Pakistan's adoption of a hardline stance on the Kashmir issue. In recent days, Pakistan has sought to repeatedly internationalise the Kashmir issue and spoken about sending medical and other aide to people in Jammu and Kashmir affected by a wave of unrest following the killing of Hizbul Mujahideen commander Burhan Wani.
Bugti, the most senior Baloch leader to publicly react to Modi's comments so far, said India should not rake up Balochistan as a "retaliatory reaction or counter strategy" just because "Pakistan's destructive role in Kashmir and its direct involvement in terrorist attacks in India such as Mumbai and Pathankot has been a very well exposed fact".
He said it "should be a sincere intention of the Indian people to support their oppressed Baloch brothers and sisters and should also be a very serious part of the foreign policy of the Indian government".
"International political scene is changing very fast in the favour of Baloch people…We hope that the Indian government, Indian media and whole Indian nation will not only raise their voices for Baloch nation but also strive to help practically the Baloch independence movement," he added.
Bugti said the Baloch and "the oppressed people of the world still remember and respect the decision of the Indian government when India intervened and came to the rescue of the Bengali people from Pakistani brutality in the 1970s".
World Baloch Women's Forum president Naila Baloch and Baloch National Movement (UK) spokesman Hammal Haider Baloch have also thanked Modi.
Naila Baloch said the people of Balochistan are suffering and hope Modi will raise this issue at the UN. Hammal Baloch said this was the "first time ever that an Indian prime minister has expressed his wish to support Baloch people, and this is a very crucial decision taken by the Indian government".
The Baloch people share common interests with India as they are secular and believe in democratic principles, said Hammal Baloch.
However, Balochistan chief minister Sanaullah Zehri rebuffed the Indian premier's statement that the people of the province are being oppressed because of a crackdown on insurgency. He also said the situation in Balochistan could not be compared to that in Jammu and Kashmir.
"The government and people f vehemently reject Modi's statement on the situation in the province," Zehri was quoted as saying by Pakistani media.
Resource-rich Balochistan is Pakistan's largest but most sparsely populated province. A low level insurgency in the province intensified after the killing of Baloch leader Akbar Bugti in a military operation ordered by former military dictator Pervez Musharraf in 2006.
Several Baloch leaders, including Brahumdagh Bugti, fled Pakistan and took refuge abroad, mostly in Europe.
Pakistani authorities have intensified a crackdown on Baloch dissidents and hundreds of mutilated and bullet-riddled bodies have been found dumped in the province in recent years. It is believed that most of these men were tortured and killed by security agencies.
Besides several Baloch armed groups with demands ranging from independence to greater autonomy, the province has also been rocked by sectarian strife. Hundreds of Hazara Shias have been killed in suicide attacks and bombings carried out by groups such as the Lashkar-e-Jhangvi.
Read| 'Grateful to Balochistan, PoK for support': Modi rakes up Pak abuses