China, Russia vow to deploy measures against US missiles in South Korea
Updated on Jan 13, 2017 09:28 PM IST
China and Russia have agreed on countermeasures in response to the US decision to deploy the Terminal High Altitude Area Defence (THAAD) missile system in South Korea.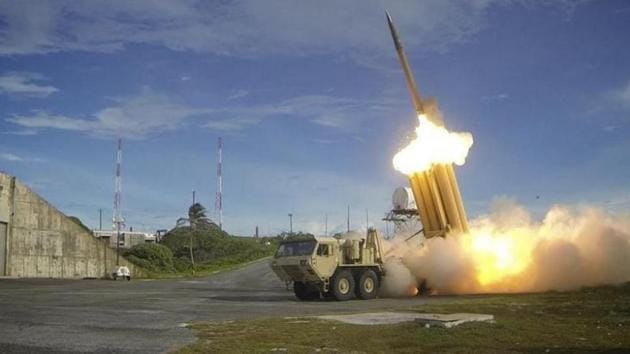 Hindustan Times, Beijing |
Sutirtho Patranobis
The tense situation in the Korean peninsula could inch towards the edge with China and Russia agreeing on countermeasures in response to the US decision to deploy an advanced anti-ballistic missile system in South Korea.
Washington and Seoul agreed to deploy the Terminal High Altitude Area Defence (THAAD) system, apparently as a move to counter any missiles launched by the increasingly belligerent North Korea.
China and Russia have opposed the proposed deployment of the system since it was announced, saying that more than protecting South Korea, it would be used to further US interests and that it was strategically aimed at Beijing and Moscow.
On Thursday, Chinese and Russian diplomats agreed on the countermeasures. Without elaborating on them, the diplomats said they "will be aimed at safeguarding interests of China and Russia and the strategic balance in the region".
The decision was announced in a statement released after the sixth China-Russia consultations on the security situation in northeast Asia.
The official Xinhua news agency, quoting from the statement, said "the two countries reiterated their serious concerns about and firm opposition to Washington and Seoul's constant attempts to deploy THAAD anti-missile system in South Korea".
Explaining the apprehensions of the two countries, the report said: "Seoul and Washington abruptly announced a decision in July last year to deploy one THAAD battery by the end of this year, triggering strong opposition from China and Russia as the US missile defence system's X-band radar can peer into territories of the two countries".
Xinhua had said in a comment piece last year, "THAAD's planned deployment is in the name of protecting South Korea's security, but actually is aimed at protecting US troops stationed in the country. Saying that THAAD can counter the nuke and missile threat from (North Korea) is merely a ruse. It is not a material guarantee for South Korea's security, as THAAD itself is a curse."
North Korea's reclusive Communist regime isn't doing much to defuse the situation either. Its official news agency, KCNA, said on January 1 the country could test an intercontinental ballistic missile at any time from a location chosen by leader Kim Jong-un.
"The ICBM will be launched anytime and anywhere determined by the supreme headquarters of the DPRK,'' a foreign ministry spokesperson was quoted as saying by KCNA.
"The US is wholly to blame for pushing the DPRK to have developed ICBM as it has desperately resorted to an anachronistic policy hostile toward the DPRK for decades to encroach upon its sovereignty and vital rights," the spokesperson said.
Personalise your news feed. Follow trending topics